Moulds
There's a good reason customers choose Glider Guard when requiring high quality plastic injection molds.  Since 1945, Glider Guard has been on the vanguard of moulding technology.  From all types of plastic injection mouldings, to multiple cavity valve,  to sequential and multi-action moulds, we have the tooling experience and technologies to meet any design and build challenge.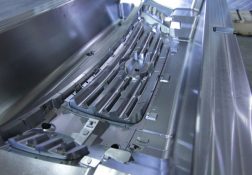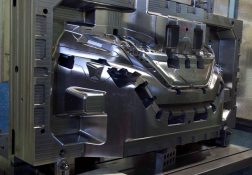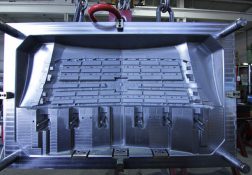 Encapsulation Moulding
Insert moulded (in-moulded) stamping is a Glider Guard specialty. Working in conjunction with our clients, Glider Guard engineers and machinists have developed mould technology that allows various metals, plastics and rubber products to be moulded simultaneously into a single system. Not only does insert moulding cut down on in-house processes, it also ensures a tighter, more integrated product.
Capabilities
Glider Guard operates a full complement of high end machinery along with skilled operators who have the capability of designing and building a variety of high performance tools that include stamping dies, progressive dies, injection moulds for plastics and multi-action moulds for major auto manufacturers and their Tier 1 and Tier 2 suppliers.
Whether you require decorative trim dies, plastic injection molds, contract machining or engineering services, you can count on Glider Guard to deliver exactly what you need.